Our Story
The Characters Behind ¿Como No? Wine
THE WINEMAKER: AARON POTT
Aaron makes wines that are authentic and full of personality, wines that speak to the land and culture of the place. With a degree in oenology from UC Davis plus a Masters Degree in Viticulture from the Université of Bourgogne, His CV seems too long and prestigious for his age and irreverent attitude, which is probably why we like him so much.
"I practice viticulture because the vine is the ultimate teacher, no matter how long you have been at it. Vines respond to the slightest interaction; a leaf removal here, a shoot positioning there. In every case they show you, often with humor, how wrong or right you were! Vines give you back the effort you put in, which is a rarity in life and utterly satisfying. There are many fascinating terroirs in Napa, and even more fascinating owner-characters!"
THE INSTIGATOR: CARL DOUMANI
Carl has been a fixture in the Napa Valley since he founded Stags' Leap Winery almost 50 years ago. When he sold it to Beringer Wine Estates in 1997, he kept land next door and built a small vineyard and winery called "Quixote." In 2014 he sold once again, but kept one last parcel for his family — the land directly below the Stags' Leap Palisades -- to make a final tribute to his lifelong muse, Petite Syrah. Thus ¿Como No? was born. And at 80, why not?
Read More About Carl in SFGATE
THE VINEYARD MANAGER: MICHAEL WOLF
In 1971 Wolf came west from New York City to be a farmer. He's been making history in the Napa Valley ever since, where he cultivates some of the region's most prestigious vineyards, but in his own unique and unfussy way...in his words "Stags' Leap Ranch is its own little world geographically and geologically. Every vineyard, every plant is different. I'm big on what's real. We like learning and being challenged, and we like the respect our approach elicits from vintners."

"Our 2-acre vineyard isn't exactly messy, it's not especially formal either. The soil here is more forgiving, more generous than other parts of the Napa Valley. Grapevines don't have great nutritional needs, so we just try to make them comfortable. We leave a fair amount of weeds in the vineyard--weeds and compost keep the soil alive and tap into the nutrients that are already there."
THE WINE: ¿COMO NO?
(A VERY FINE) PETITE SYRAH
Small, deeply colored grapes are artfully crafted into a very dark, voluptuous wine with crazy quilt layers of blackberry raspberry coffee and cocoa—almost like a Black Forest Cake with a combination of chocolate and cherries and creaminess.
Robert Parker Ratings:
2011 - 94pts
2012 - 94+ pts
2013 - 95+ pts
2014 - 96 pts
2015 - 96+ pts
2016 - 95-97+ pts
2017 - 95-97+ pts
Our Vineyard & Winemaking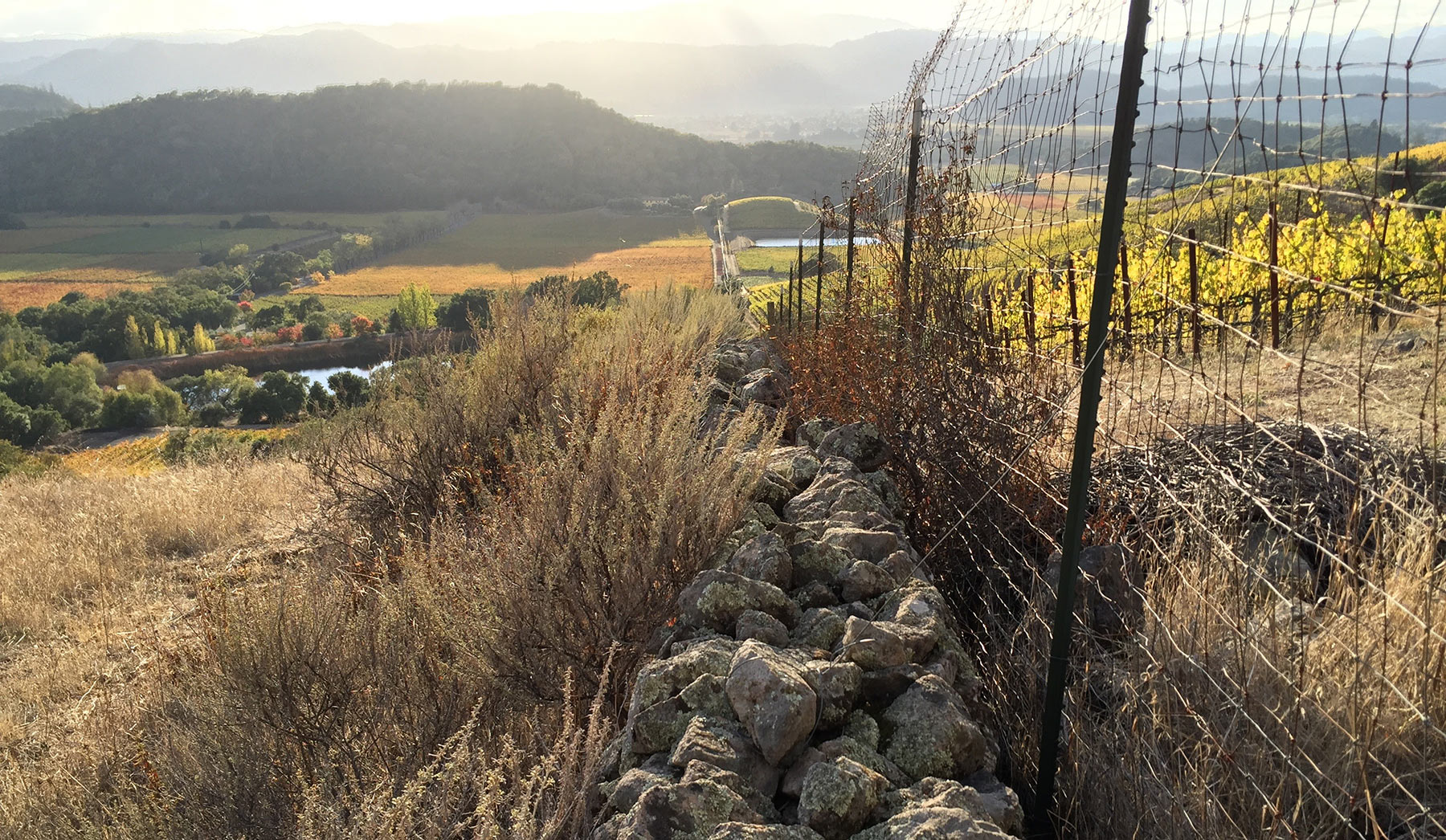 Our grapes are both picked and sorted by hand in small bins. Any grapes with flaws are discarded to ensure the best quality and flavors. We then cold soak the grapes to start flavor and color extraction prior to fermentation. During the first 45 minutes of the cold soak about ten to fifteen percent of the liquid volume is drawn off to produce a richer and fuller body in the wines.
During fermentation our attentive regimen for extraction includes hand punch downs and gentle pumpovers at high frequencies to bring beautiful textures to the wine and ensure varietal-worthy power and dimension in each vintage.
¿Como No? then spends twenty months in custom French Oak barrels from different coopers to give subtle nuances to each barrel and each lot of wine.
Pairing Food with ¿Como No?
The wine is all about richness, intensity, and length of finish.
Petite Syrah enters the mouth softly, and then balloons with a fruit-driven fullness, as a sweet impression in the mid-palate, and a finish that lasts well beyond expectations. This is what we love about the wine--this long finish that marries so beautifully with what you're eating, creating that synergy that heightens all the flavors so magically.
¿Como No? can easily be enjoyed on its own, but it is also gloriously paired with roasted leg of lamb; wild game --especially served with a Cumberland sauce; hearty and spicy Italian fare, braised classics such as beef short ribs or lamb shanks and any mix of Mediterranean flavors.
Join our mailing list to receive our favorite recipes and menus for Petite Syrah pairings